Game and Application development with C++ – 2021 Bootcamp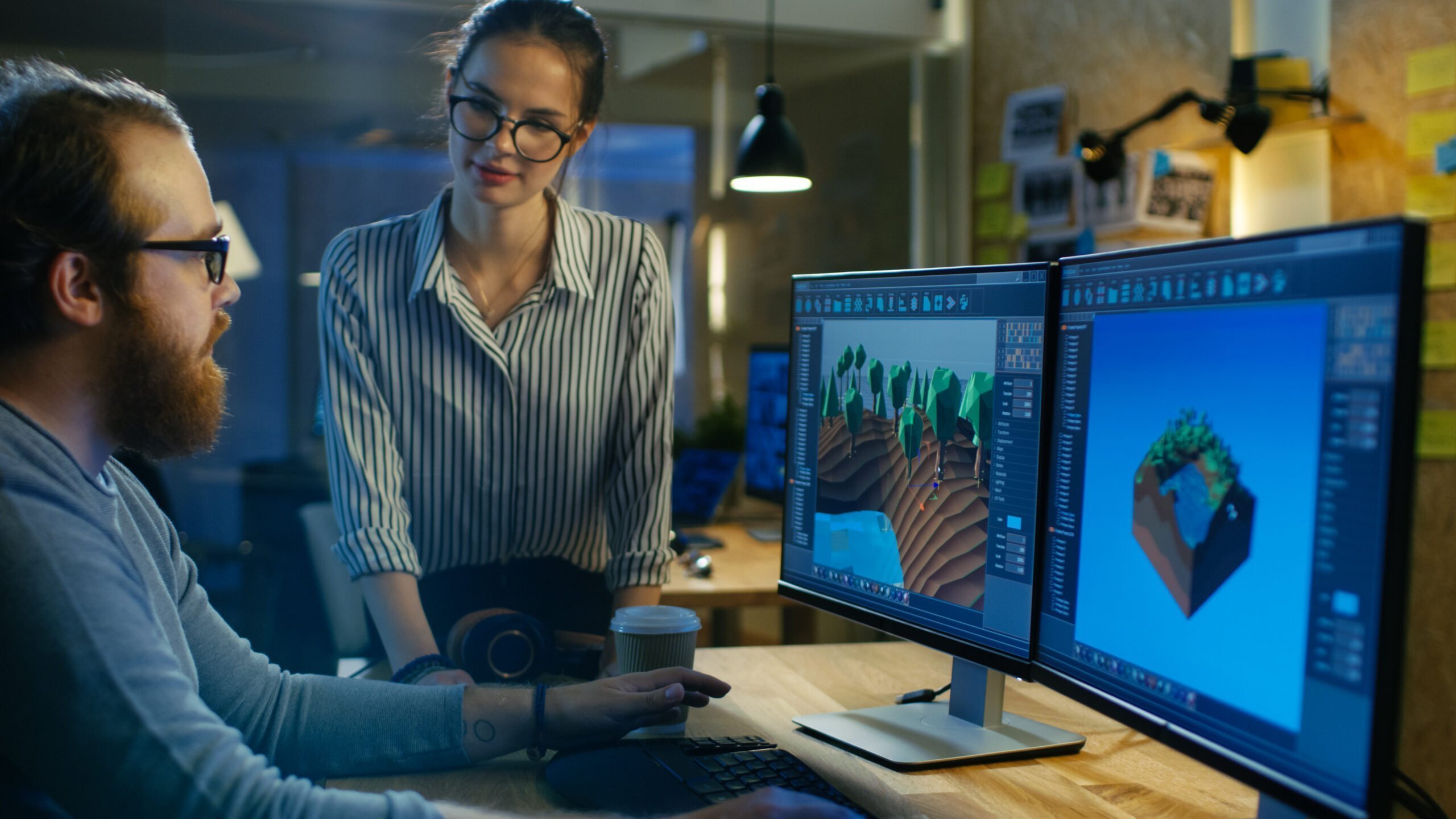 DESCRIPTION
In this course, you'll learn how to build games and applications from square one using C++ programming language.
This course is composed of about 137 lessons with over 60hours of well-detailed and readily understood videos.
This course is well surveyed and made explicit which entails all it takes to master the course.
Upon completion of this course, you'll be able to create and develop games and applications of your choice.
With us, your long-awaited projects will be realized.
FAQ
I don't have any programming knowledge, can I learn?
YES!
This course has been simplified to its basic level. This course starts from the grassroots of C++ up to game and application development. 97% of my students had no programming skills when they enrolled in this course but now making cool games and applications.
Is Game and Application development difficult?
ABSOLUTELY NOT!
I worked on this course for 7months covering all aspects and breaking the process of software development down to its basic form. A 12years old child can take this course and understand everything to the fullest.
You will have no difficulty in learning how to build games and applications.
Are the videos and materials downloadable?
YES!
This is Africa. we don't want you to spend so much data watching live videos. So we made all our tutorial videos and materials downloadable. These materials are highly compressed mostly 18-28MB.
What are the course requirements?
Access to a laptop or computer with 2GB ram or above.
How long will it take me to start building games and applications?
You will start building applications and games right from the fifth tutorial.
Will certificate be issued?
Yes, a certificate of completion will be issued at the end of the course.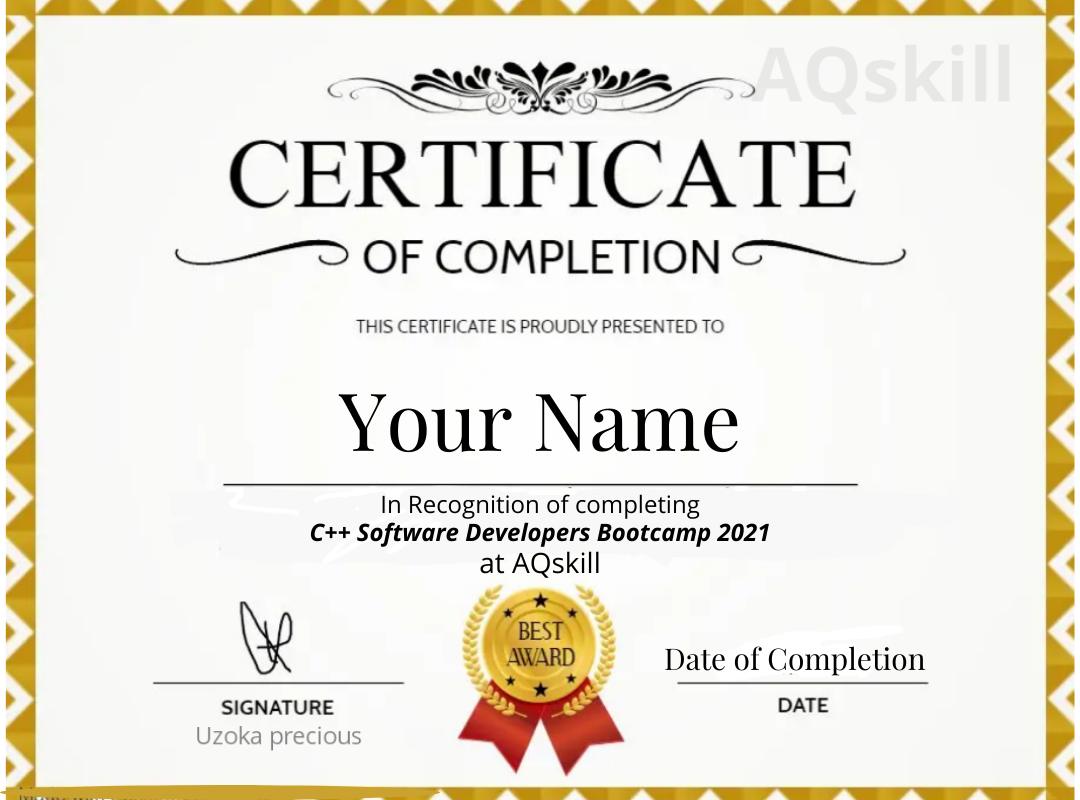 WHAT WILL I BE ABLE TO DO AFTER TAKING THIS COURSE? 
You will be able to build
Games such as

Arcade games
Adventure games
RPG games
Applications such as

Accounting softwares for companies.
Database softwares for schools and organizations.
Productivity softwares for private individuals.
You will be able to get employed by Google and other I.C.T companies .
You will be able to design applications and games, publish them on various platforms  and earn cool cash from them.
You will be able to apply the knowledge of this course in other programming language making it extremely easy to learn other languages like Javascript,python,PHP and the likes
Are you ready to get started?
If you are ready to get that first paid job as a software developer or to move up to a more senior programming position, then this course is for you!
Your new job or consulting opportunity awaits!
Why not get started today?
Take Advantage of this offer before its late
Click the BUY THIS COURSE button to sign up for the course!
TESTIMONIES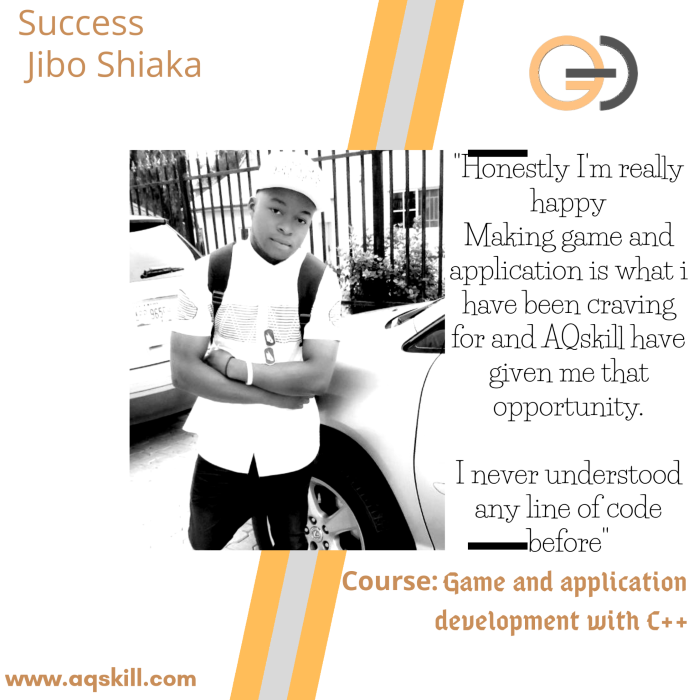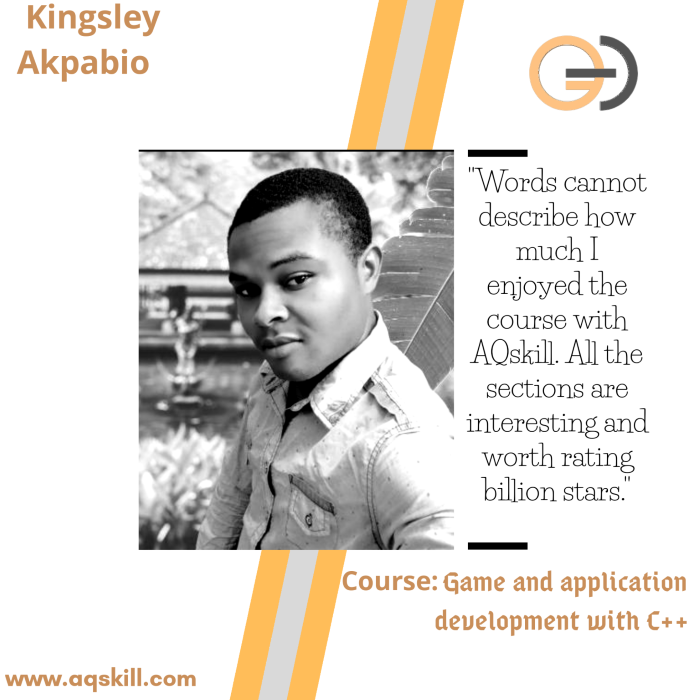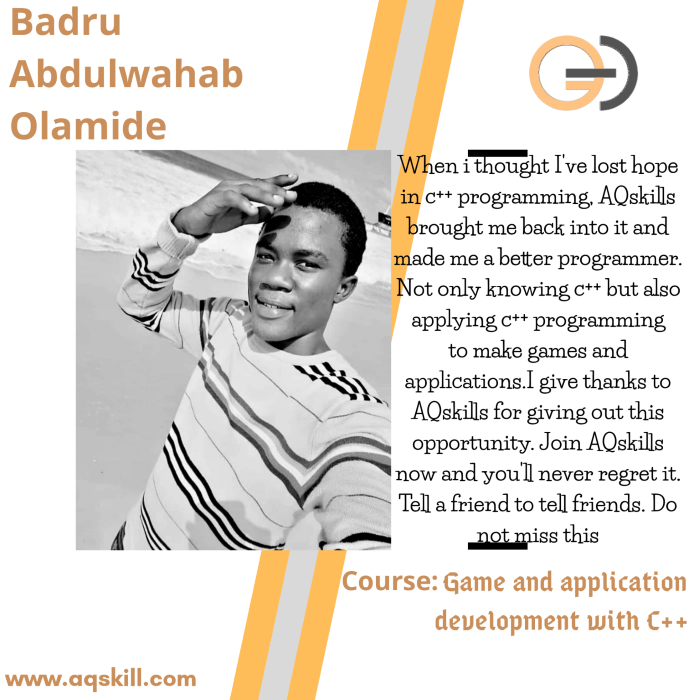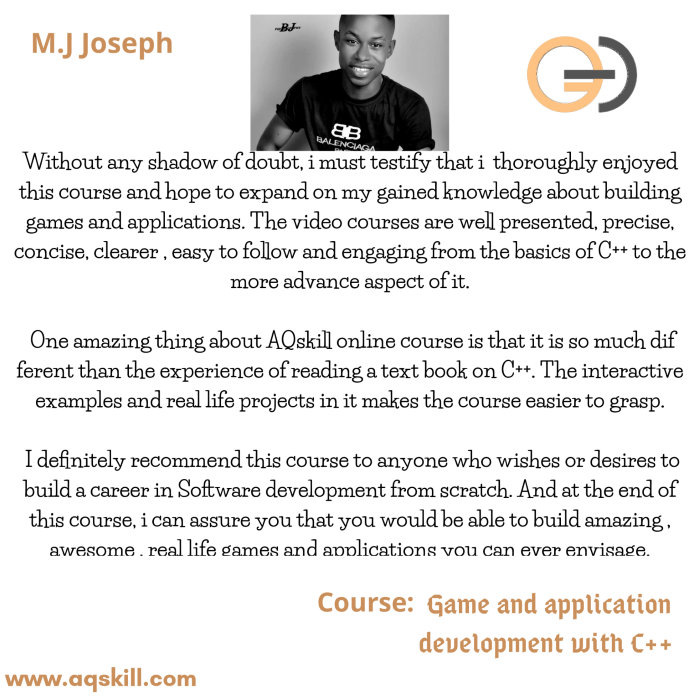 Course Features
Lectures

138

Quizzes

9

Skill level

All levels

Language

English

Students

799

Certificate

Yes

Assessments

Yes
Carl Reindorf

Mr Carl Reindorf

This course is perfect with a very good instructor. I started learning C++ from basics with him and before I realized I was actively explaining concepts with other students in the comment section. I look forward to finishing soon. Thank you, Precious!! I thank God for meeting your course on time, I nearly gave up on programming.

Samson

Game and Application development with c++

The course is superb the instructor is a very good teacher although I have not finished learning but sofar very great. Keep it up weldone all Aqskill crew

esodo chinonso john

Game and Application development with C++ - 2021 Bootcamp

Moses Mwenya

Game and Application development with C++ - 2021 Bootcamp

Your teaching skills are very good and interactive. Thank you very much..

Nyantakyi Samuel

Game and Application development with C++ - 2021 Bootcamp

Excellent tuition by all standard