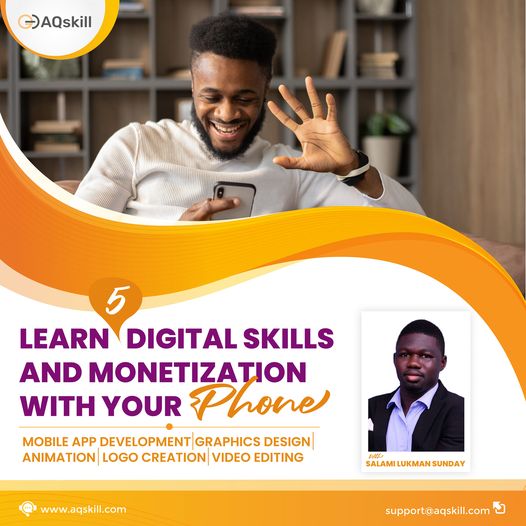 Hit your jackpot today with the secret tool, this is rare and many out there have been searching for it, if you are reading this, congratulations.
And before you join make sure to forward this, you have done well if you do, but use your referral link(www.aqskill.com/affiliates) and earn alongside let them come get the winning trend.
"5" is the lucky number when you join, you are to get an upgrade on your building not just to 2 or 3 instead 5 storey building, each building denotes different skills you'll be able to attain in that same building which denotes your phone, logically you will agree with me that a landlord with more space to rent out earns more money as now you're a landlord this is your chance to earn more room to fetch you more opportunities and earnings.
Still about the jackpot
Every brand needs a representative, an icon to be its voice. Especially online businesses at first don't care who the owner of the company or brand. Is your service and approach is the main deal if your icon is poor, your representative is weak, not strong enough to compete, the plain truth is that the brand won't last long and it'll all end like a tragedy.
AQskill stands to serve to your table, cookies with comprehensive ingredients to give nutrients to your services as a designer. The 5slots for the jackpot are
Mobile app development, Mobile graphics design, Animation, logo creation, and video editing. What more do you need and with this you should be the next able brand representative. The multitude has started and has been enjoying their story building as it has sheltered their legacy.
Use your subscription the right way now, it has proven to be useless and exhausted without really achieving much with this kind of slot you can account for your monthly sub and see evidence of its use. Your building doesn't need a laptop as its the foundation all it requires of you is an Android phone yes, this one with you that's what is required login and drop the token do it asap to meet up with the promo price as I said it's a "token".
With that token, you can use it to learn a creative skill at your leisure and the mobility makes it easier for you, compared to others using a desktop or a laptop. there's no excuse why you wouldn't be good at it if you follow up patiently and diligently, the stress of sitting in the front of your system all day has been cut off, you don't need to carry a bag around now with that phone you've been using all this while learn a MOBILE COURSE and earn your self, not just the certificate but the skill and with time after perfecting it, you are open to earn from a skill you have.
What do you think?
This has been made easy for you, don't make it wait longer!
Don't let this skip again
Trust your decision and focus completely on working on yourself, it pays off!
Have a tie with the bonus NOW!