Cartoon Creation and Animation using Photoshop and Character Animator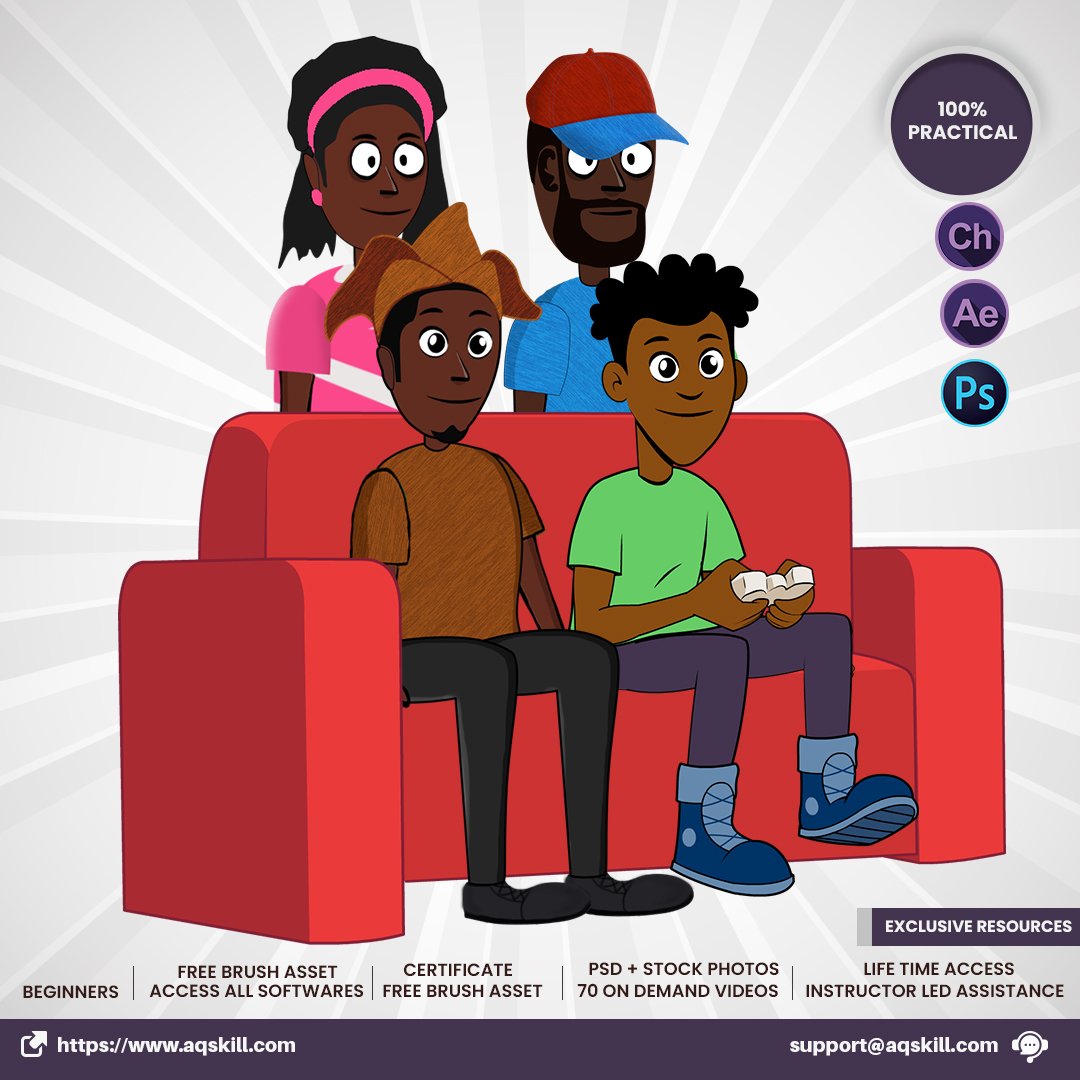 DESCRIPTION
Learn how to create reusable characters, environment, edit audio tracks for explainer videos, short films, cartoons, commercials, creative live interactive characters music videos, and other media.
how to effectively create and animate a character inside of Adobe Character Animator! With the use of your video camera, microphone, and custom behaviors, you will learn how to create unique animations that can be used for business presentations, entertainment, and more!
More specifically, in this course, you will learn how to:
Design and Layout a Photoshop character for Adobe Character Animator import
Tag layers for lip-syncing and facial behaviors
Add special handles such as draggers to allow interactivity with the mouse
Create triggers for hide-able layers
Create Swap Sets for multi-phase layers
Auto lip-sync in the application
Lip sync using an external audio
Edit recorded actions
Work with backgrounds
Work with multiple puppets
Export animations through Adobe Media Encoder
Properly assemble rigs in Photoshop for Character Animator
Adding facial expressions using triggers and behaviors
Create Swap Sets for multi-phase items
Add dynamic motions with head turns and walk cycles
Create short films or cartoons with more than 3 characters having a dialogue in an apartment
Create and record cartoon animations for business purposes.
and many more
You will learn in detail how to animate the characters you create with your webcam and automated lip sync in Adobe's Character Animator!  
We'll cover mouth shapes, layer placement, syncing an audio track to lips or creating your own audio for your character to voice, adding physics for more life-like movement, creating custom puppets, and even walk cycles.
In this course, you will learn how to use Adobe Photoshop and Adobe After Effects to build our Characters and files. These softwares are essential to creating awesome and amazing characters for Character Animator.
This is a highly effective way to create reusable characters for explainer videos, short films, music videos, and other media.
FREQUENTLY ASKED QUESTIONS
Are the videos downloadable?
The videos are highly compressed and downloadable.
What are the course requirements?
A Computer or laptop with at least 8GB of RAM
Webcam
Windows 10 OS
Will the certificate be issued?
Yes, a certificate of completion will be issued at the end of the course at No charge.
How will I get access to the Course videos and Materials?
Once payment is completed. The course lessons and materials will be available to you instantly.
Course Features
Lectures

62

Quizzes

0

Duration

8 hours

Skill level

All levels

Language

English

Students

29

Certificate

Yes

Assessments

Yes
Introduction to Photoshop

Gain mastery on specific tools in Photoshop that are use for shading, drawing, sketching such as Pen tool, Brush tool, Marquee tool etc.

How to design living room for characters

Here you will create your first project by designing a living room that will composite later using Adobe After for our characters to be able to interact with such as the chairs, the kitchen cabinet, flower vase, gift boxes, blind etcs

Introduction and Head setup in Character Animator

In this section we will learn how to convert any Photoshop file or artwork into a puppet that can express emotions using it eyelids, eyes, move it head around using and many more and this is made possible in Character Animator is a performance capture application

Designing characters

In this section you will learn how to design individual characters

Adobe Audition Mixdown

In this section you will learn how to prerecorded audio file either using your phone or in the studio which we will use as an audio take for our character in Character Animator

Rigging and animation in Character Animator

Here you will learn how to rig any character by adding tags, handle tools, behaviours and animate by adding triggers and behaviours as well and finally saving your project which will be imported into Adobe After using the dynamic link option

Compositing in Adobe After Effects

Here we will learn how to bring all our artwork together and composite them using After effects and finally exporting our final composition using Adobe Media Encorder