Digital Marketing- Facebook and Instagram Advertising(MasterClass)
DESCRIPTION
Digital Marketing is now one of the most demanded and sought-after skills to learn in this internet age.
Think of it.
What big business or company doesn't market or sells its products online?
You will find out that almost all if not all.
To sell anything online, you need to understand and know how to market in the internet space. That is what is digital marketing.
In this course, you will learn step by step how to market any product(physical or digital ) profitably on the internet specifically using the power of social media(Facebook and Instagram advertising)
This course is consist of 103 structured lessons to teach you, everything you need to know about;
Facebook Advertising
Instagram advertising
Copywriting
Sales strategies
Tricks & hacks in digital marketing
This is one of a kind as its approach is distinctly backed with successful results. In it, you'll learn the same strategies I use to create Facebook, Instagram, and Messenger Ads that have taken e-commerce start-up from 3 to 8 figures. Learn from my most successful Facebook Marketing approach and follow the blueprints I'll share to make HIGHLY PROFITABLE FACEBOOK AND INSTAGRAM ADS.
This course is not a theoretical course but a practical one. You will learn everything from the real data of my ads and that of other businesses.
This skill will help you land a highly paid marketing job, supercharge your e-commerce, or set up a profitable Facebook & Instagram Ads agency. If you want to freelance, also switch your path and make you BE YOUR OWN BOSS, working from anywhere as a Facebook marketer.
What will I learn in this course?
You will learn when, and how to use the various campaign objective in Facebook ads manager, analyze results and optimize for better performance.
You will learn how to target the right interest group and get a very low cost per purchase(conversion) from your ads using the Facebook developer API
You will learn how to set up conversion events(Facebook Pixel) for your websites and that of your clients. 
You will understand the various custom audience we can create on Facebook Ads Manager and most importantly which one to use depending on the situation. 
How to create a Lookalike audience for your ads and when it's important to do so.
How to upload, create custom and lookalike audience from your customer list.
How to analyze any campaign, and what metrics to look at when analyzing.
How to use various tools in Facebook ads Manager from the Facebook Ads reporting to commerce manager.
How to create special ads using the Instagram app.
You will also learn secret ads strategies to scale and get better results from your ads.
You will learn various sales strategies and improve conversion rate.
You will learn how to write great ads copies and relate to your potential customers.
FREQUENTLY ASKED QUESTIONS
I don't have a laptop or computer can I partake in the course?
Yes, In this course you will also be taught how to run profitable ads using the Facebook ads manager app. but a laptop is most recommended to utilize all the advanced tools in Facebook and Instagram advertising.
I don't know anything about advertising on Facebook and Instagram can I partake?
Yes, This course has been structured perfectly for complete beginners, and for those who have been running ads but want to advance their advertising strategies and get better results with their ads.
How do I access the Course videos and Materials?
Once payment is completed, an email will be sent to you giving you access to the course lessons and materials.
Are the videos downloadable?
Yes, the videos are highly compressed and downloadable.
Will certificate be offered?
Yes, a certificate of completion will be offered at the end of the course for no charge.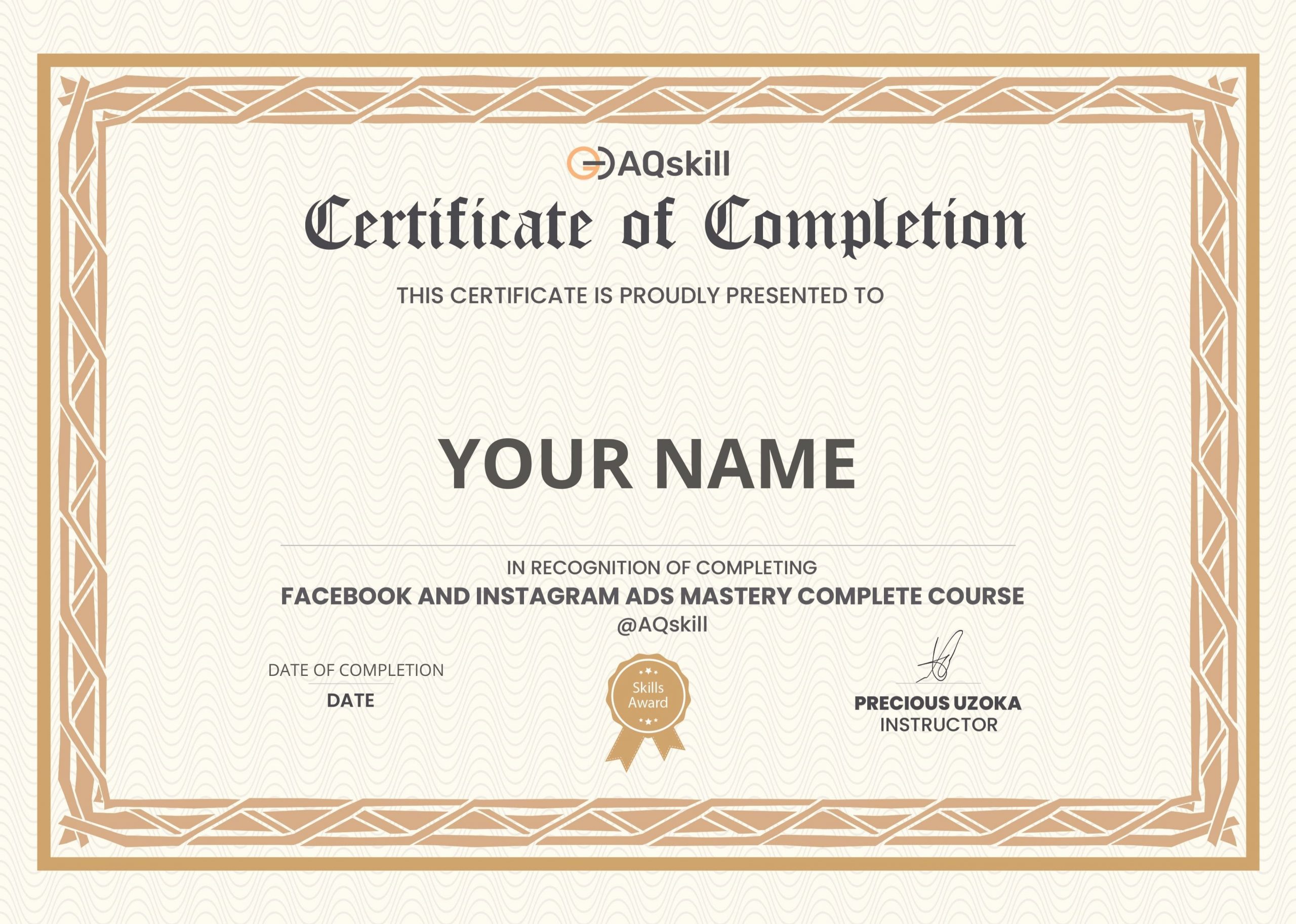 Course Features
Lectures

103

Quizzes

0

Duration

12Hours

Skill level

All levels

Language

English

Students

76

Certificate

Yes

Assessments

Yes
INTRODUCTION TO DIGITAL MARKETING

Getting Ready For Advertising

Audiences I - Saved Audience

Audiences II - Custom Audience(Your Sources)

Audiences III - Custom Audience(Facebook and Instagram Sources)

Audiences IV - Lookalike Audience

Business Settings

Event Manager

Facebook Business Tools

Brand Awareness Objective - Ad Setup, Analysis and Optimization

Reach Objective - Ad Setup, Analysis and Optimization II

Traffic Campaign Objective - Ad setup, Analysis and Optimization

Engagement Campaign Objective - Ad setup, Analysis and Optimization

App Install Campaign Objective - Ad setup, Analysis and Optimization

Video views Campaign Objective - Ad setup, Analysis and Optimization

Lead Generation Campaign Objective - Ad setup, Analysis and Optimization

Messaging Campaign Objective - Ad setup, Analysis and Optimization

Copywriting and Social Media content creation

Conversion Campaign Objective

Retargeting

Catalogs Sales Campaign Objective

Advertising with Mobile Phone

Summary
Hope harrison

Facebook and Instagram Ads Mastery- Complete Course

This course is by far the most comprehensive, relevant and practical course I have bought on facebook ads. Thanks to the instruction for taking your time to explain in details and overdeliver on this course.